Discover the Story Behind GreenPlanet
Meet the team and learn more about how we started and were we are heading
Discover more
The team at work preparing the next batch of compost
Our Story
Hey there!
It's Victor here. Ever since I can remember I have had that eager (almost desperate) urge to build something from scratch that will affect many lives and will have a positive impact on our planet. With GreenPlanet Gardening this dream can finally become reality.
The day the vision was born.
Back in 2017 (I was still 17 years old) I watched a very interesting documentary about worm farming on YouTube. I was absolutely intrigued by the concept of taking something nobody wants (kitchen scraps, manure, gardening offcuts) and turning it into a precious and useful fertilizer.  Also, I saw that my home country Namibia had a problem. We can't manage our resources very well. We don't act very sustainably.
The challenges I saw
The problem is that we use compost and think because it says "organic" on there it is natural – but few people actually keep in mind how much carbon dioxide was produced with the production of the compost. We keep our garden green, but few people think about how much water it actually consumes. We use manure to fertilize our ground, but few people actually know how poisonous this can be to our soil and our ground water.
A Greener Garden
Well – there are dozens of problems I saw and that's why I wanted to build a company that helps people to not just grow a blooming garden, but also a sustainable and natural one too. I wanted people to grow TRULY green gardens. Gardens that are eco-friendly and that actually help our environment. And that day, the idea of GreenPlanet Gardening was born. When people use our products they should know that they don't just do their garden a favour, but the environment and our planet too.
Nothing like getting hands-on!
Humble Beginnings
I started using worms to produce this high quality, natural fertiliser. The beginnings were very humble of course. I bought some (totally overpriced) worms from local farmers who happened to have exactly the right type of worm. I still remember the overwhelming feeling of pride when I finished building my first worm farm (see picture). Not that professional, but definitely a start. I soon teamed up with a friend of mine (Christof Serrer) to turn their garden into a vermicompost production. And with combined efforts and a lot of help of his mother (Gabi Serrer) we were able to scale our production quite rapidly from one big box of worms to around thirty. In January 2018 Christof focused more on becoming a mechanic, so Gabi and I continued with our journey.
One baby step at a time
Currently (August 2018) we are moving to the nearby Keding stables. The owner (Gert Keding) likes our idea and decided to help us out with the production of the vermicompost and other products we might work on in the future. Looking ahead, we have a lot of exciting projects on our checklist ranging from making our production run entirely on renewable energies to investing a portion of our profits into cleaning local areas from plastics and other non-organic waste. We want to help build local community gardens that are 100% eco-friendly and bring the zero waste movement into every garden out there. In a nutshell – At GreenPlanet Gardening we make our Planet greener one garden at a time. So I hope you share our vision and I am happy to welcome you on our journey ahead!
Proudly promoting and selling our compost
A new chapter …
With Victor moving to Germany to concentrate on his studies, Gabi has picked up the reigns and has become the main driving force behind the business.
Gabi has established a partnership with Morêson Sepcial School in Windhoek, who now produce and packge all the compost for Green Planet.  The school aims to provide training, employment, and a social environment in which former learners with intellectual disabilities can thrive, be engaged and empowered to become productive in and contribute towards Namibian society. Find out more about them on their Facebook page.
Gabi aims to take Green Planet forward with an even stronger focus on the social purpose.
The Team Today
Nice to meet you!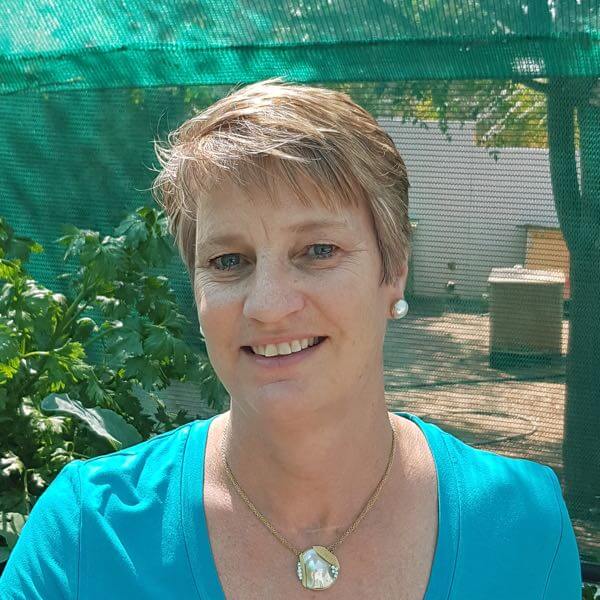 Gabi Serrer
Owner
From its very beginnings, Gabi has been a huge supporter of GreenPlanet – helping with transportation and all important contacts.  Gabi's involvement increased over time, helping Christof, her son, with the early stage backyard production. 
Today, following Victor's move away from the business to concentrate on his studies, Gabi is the driving force behind the business. Gabi is also an freelance accountant.